Happy New Year! I have to admit that, as a Dad of a one year old, this was one of my least eventful New Year's Eve celebrations in memory. But I don't mind, I was reveling in record setting revenues at the end of my first year as a full-time freelancer! Read on to find out how I did in December and some useful tips and tricks I learned along the way.
Why in the world do you share your income publicly?
When I started this website more than nine years ago, I had just left a job working as a bank manager. I learned so much about misunderstood parts of banking and personal finance earning a finance degree and running a bank branch that I decided it was time to share what I had learned. I was the guy who decided if your mortgage was approved, after all, something most people never see firsthand.
I read other personal finance blogs as I worked to pay off my car loan (which I did in about half of the five year term), pay off my student loans (two years and six days after graduation), and conquer other financial challenges as a Millennial with a shiny new finance degree. I realized reading those other sites that I had a unique perspective thanks to my background, and to build trust with you, I would be completely transparent on how I deal with my own finances.
I used to share a monthly net worth update, but since stopped doing so regularly for the privacy of my family. However, I always shared what I earned online and through side hustles, and continue to do so every month. Side hustle income has changed my life, and I like to show you how in these monthly updates.
If it's your first time stopping in, you can see a history of my online income reports here, going back to February, 2012, when I brought in $739 online. I did a whole lot better this month, but you'll have to keep reading to find out exactly how much better and how I did it.
More top posts for new readers:
Wrapping up 2016 with a Forward Looking Mindset
As I write about from time to time, I am a member of a mastermind group, one that I was new to in 2016 when my long-time mastermind wound down earlier in the year. Most weeks we rotate through putting different members on the "hot seat," where we dig in on specific pain points, bottlenecks, and ideas for our members. But for December, we mixed things up and looked at our goals for 2017.
While I'm not huge on listing out detailed goals, I do love the idea of goal setting at a high level and have been doing so for years at my life list. My life list has taken a bit of a backseat since I quit my job in April. My time was so focused on my client projects that I hadn't spent much time thinking about my long-term aspirations for my business and my life.
After a stellar income result last month, where I brought in over $16,000 in revenue, I started to think more about sustainability and scale rather than trading my time for money, which I am doing currently as a freelancer. I also want to diversify my income out of writing a bit more, and with a successful closure of my website development business, I'm thinking about other options I enjoy to earn more. That led me to two of my biggest goals for 2017.
My 2017 Goals
Two of the areas I want to focus for my business in 2017 are speaking and software as a service (SAAS). I find both of those exciting and both offer lucrative opportunities to increase my income while spending fewer hours behind the keyboard each day. This is a long-term goal I've had for a long time, but don't worry, this website (including the podcast, email list and, other goodies I work on) isn't going anywhere.
Speaking – My biggest goal for 2017 is to launch myself into the world of paid public speaking. I have always loved speaking and never shy from a microphone, and after years of successful Ignite talks I got on stage with my own session at FinCon in San Diego. It was a huge success, and I decided to make it a bigger focus for next year. I want to speak at both a conference and somewhere I get paid to speak in 2017. They can be at the same time, but they don't have to be. To get started, I subscribed to Grant Baldwin's awesome Podcast, The Speaker Lab, and just finished up my demo video to start pitching conference organizers. If you know any conference organizers who may need someone to talk about personal finance, entrepreneurship, digital marketing, or leadership, feel free to pass on my name!
Software Project – In 2015, I started working on Money Mola, a peer-to-peer lending platform for family and friends. That project is still trucking along, but at a slower speed than I would like. I'm also toying with some other ideas for WordPress plugins and other products I could offer online.
I also want to try to grow my affiliate income I earn from this website, which isn't much but I'll take what I can get. I'm also testing different products including coaching and one hour personal finance consulting sessions, which I call the Personal Profitability Power Hour.
Shutting Down My Website Business
Over the last few months, I've shared that my website business is winding down so I can focus primarily on writing. I'm down to just a handful of recurring monthly clients, but I'm not taking anyone new. I've also been turning away website projects outside of a few longtime friends. I don't plan to write much more about this here in the future, but if you're interested check out the last few months' income reports for a longer explanation.
Entrepreneurial Income Breakdown
After earning $16,000 last month, I have been over the moon happy with my results but didn't want to let it go to my head. After all, earning $16,000 one month doesn't mean it can do it every month. I'm excited to say, however, that I am still in five figure territory this month. My 2017 goal is to earn at least $10,000 per month each month, and I ended 2016 doing exactly that three months in a row.
REVENUE
Advertising Income
Affiliate Marketing – $126
Direct Ad Placements – $200
Total Advertising – $326
Freelance Income
Website Support – $2,055
Writing Services – $10,200
Total Freelance – $12,255
Side Hustles
Gross Profit – $12,688
Hitting $10,000+ for three months in a row, I now feel confident calling myself a "six figure freelancer," which puts me in a cool club with a handful of friends from the FinCon community who I've long looked up to as both friends and inspiration for my own blogging success.
Just this morning, I was listening to an old episode of the ProBlogger podcast. The episode was titled, "Can You Really Make Money Blogging?" Listening along helped me think about the different ways bloggers can earn and the different motivations we have for our online income businesses. In the episode, he shared that the majority of bloggers with the same level of success I'm seeing today have been blogging for seven to eight years, which puts me right in the average of my peer group as I've been writing about finance online for around that length of time. It took me eight years of hard work to become an overnight success!
Now, because we know it takes money to make money in many situations, let's look at how much I spent to bring in that $12,000+ income in December.
EXPENSES (Does Not Include My Paychecks or Insurance)
Bank Charges and Payment Fees – $29
Computer and Internet Expense – $997
Meals & Entertainment – $77
SG&A – ($69)
Outsourced Labor – $275
Postage & Shipping – $98
Telecom Expense – $81
Travel – $244
Total Expenses – $1,732
Total Revenue $12,688, Total Expenses $1,732, Profit Before Tax $10,956
Check out my full history of income reports here.
Financial Planning & Analysis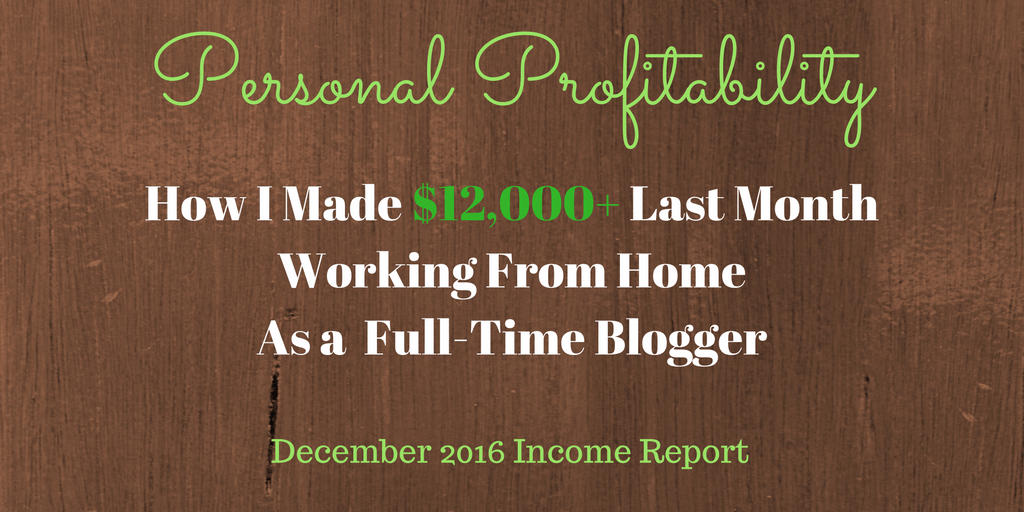 This month, I added a new side hustles section to my income report to break out the little projects I'm working on. The first such project that showed up this month is "flipping," or reselling items you got cheap or for free at garage sales, thrift shops, Craigslist, eBay, and elsewhere.
We came across a box of old records and wanted to test our luck selling them online. That is the source of the flipping income and most of our postal and shipping expenses this month. While we brought in over $100 (net after Amazon and eBay fees), we spent nearly that much shipping out the records. It doesn't look like this particular project selling records is going to be for us in the long run, but it was an interesting exercise and worth a shot!
The bulk of the website support income came from a payout from OneDayBusinessWebsites.com, a project I started with my friend Brad Finkeldei but have stepped back from to focus on writing.
Lessons Learned in the School of Hard Knocks
This month was an interesting one, being my first self-employed holiday season. While others were taking vacations and enjoying winter break, I saw my flow of projects slow slightly from clients, but not slow enough for a substantial income drop below the $10k threshold.
With a $4,000 monthly revenue decline from the prior month, I know that I can't count of doing this well every month. I'll stick to it and give it my best shot, but keeping a sizable emergency fund and saving whenever I can is key to continue living the freelance lifestyle.
Until next time, stay profitable!