Late last year I changed my email provider from Aweber to ConvertKit. I had a great experience with Aweber over the last few years, but decided that the new features at ConvertKit were worth the switch. Enjoy this ConvertKit review and tour of my ConvertKit dashboard and learn how you can use this email marketing tool to better connect with your audience and readers.

ConvertKit Review: Dashboard Tour Video
ConvertKit Review: Importing from Another Provider
Getting started with ConvertKit was as simple a process as I could have hoped for. I just downloaded my subscriber list from my old provider, uploaded the .CSV file into ConvertKit, and they took care of the rest. If you are moving a really large list, ConvertKit will take care of the migration for you, but for smaller lists like mine, it is completely do-it-yourself. There are help articles for the less technically inclined, but the process took me less than five minutes from start to finish. This ConvertKit review will walk you through all of the important screens and views in a new account.
The biggest difference most email list veterans may notice is that ConvertKit doesn't offer multiple lists. You get one big list, but can segment that using signup method (forms), courses, and tags. You can always add tags later on, but it is a good idea to add some sort of import tag to your upload lists so you know where they came from.
One place ConvertKit could improve is allowing you to bulk add an entire tag to a form or course without re-uploading. I ran into an issue where I imported subscribers before setting up new forms and courses, so I had to do the import twice.
ConvertKit Review: Getting Started
The first place to focus is getting your email content plan mapped out. The way to do this is through the courses tool. You have a default "Welcome Series" course in your account when you get started. From there, you can edit that course, or create as many new ones as you'd like. A course is the same thing as an "auto responder series" at some other providers.
The course editor is simple and straightforward. You can draft messages and set them to publish when you want them live in your series. New emails added to an existing series will be sent to all existing subscribers. Emails are scheduled based on the number of days since the last message was sent. I have sent in a feature request to schedule emails on specific days of the week, but right now that is only available as a global setting for your course. For example, you can set it so no emails are ever sent on a Saturday or Sunday, but you can't schedule an email to go 3 days after your last message, but only if it is a Tuesday.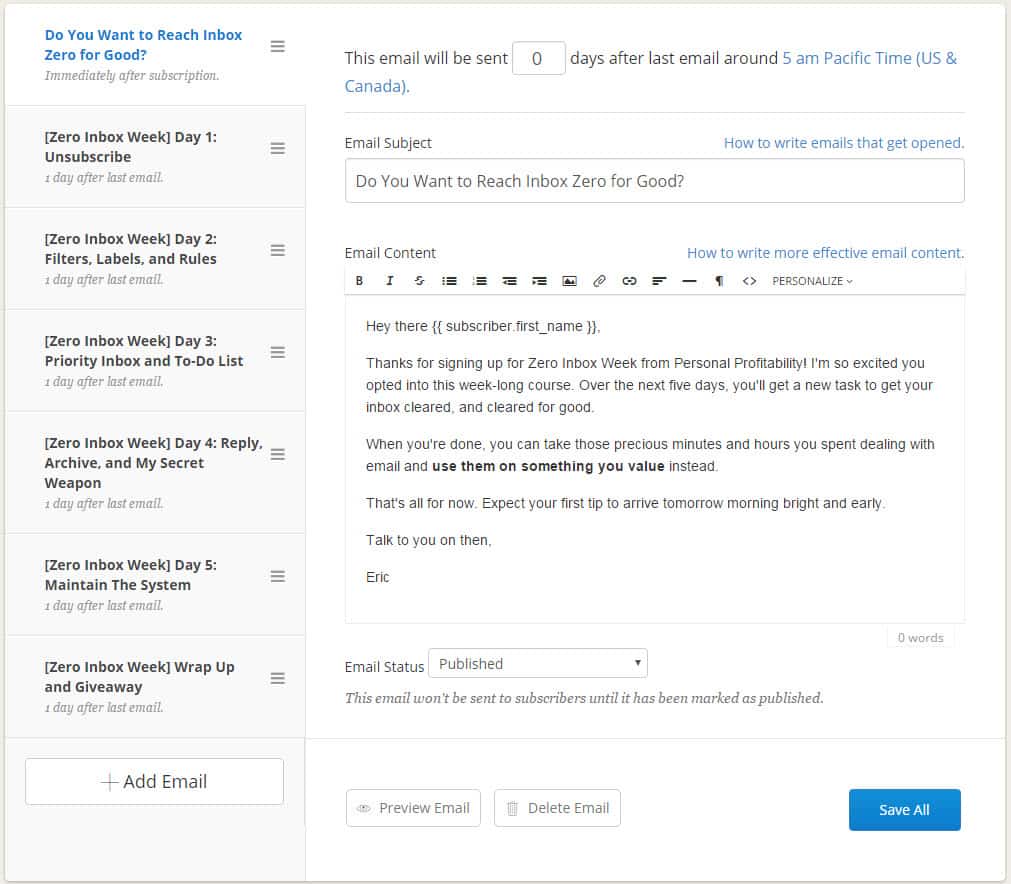 I would start with courses before anything else. You'll see why in a moment. I did this in a different order, and it took some work to link things back together the way I wanted. Once you have your courses created (don't worry about all of the emails, just make sure the course exists and has the right name in the course editor), move on to create your forms.
Every new subscriber to your list will be added through a form or import. Even 3rd party tools like Sumo and Gravity Forms connect to ConvertKit using forms. I wanted to be able to track where people came from for each of my sign up sources, so I created a handful of forms for each scenario.
Forms can be embedded in existing web pages or blog posts, hosted as a web page by ConvertKit, or linked to a tool using an API. I have some forms embedded in my site, and some connected to the Sumo and Gravity Forms sign up forms on my site using the API. You can see an example of an embedded form on my travel hacking guide. Look for the boxes that offer a free workbook for signing up.
Each form can be setup with specific behavior for each new user. This is one of the most powerful features that ConvertKit has you can't find at other providers. With my old provider Aweber, for example, new users have to click a confirm link in an email to join the list, then they get another email with the sign up incentive. With ConvertKit, clicking on the link to your resource automatically confirms the opt-in. One less email for your user. One less step for your user. I'd call that a big win on the user experience.
You have lots of options to customize sign ups and what happens when people sign up using ConvertKit automation rules. Before you deploy your forms on your site, make sure to set up your automation rules to do what you want. When a visitor signs up using a form, you can have them automatically join a course, tag (segment), or another form. Here are the options you have for your automation rules:
I have automation rules and form settings to add every new user to my welcome series, an additional Zero Inbox Week course that readers can join, and plans for more in the future. I admit that I have not given my courses as much attention as I should, thanks to a full load of freelance clients, but I am making progress and ensure that all users get a unified, useful, and enjoyable experience each step of the way.
ConvertKit Review: My Results
So how does this turn into more money in your pocket as a website owner? A lot of ways! If you can make you email subscription process as simple and easy as possible, you will see an uptick in confirmed subscribers instantly. I implemented ConvertKit a day before I was lucky enough to be featured in a post on MSN, and grew my list, which was years old, by over 10% in a day. That capture rate would have been much lower without the tools I had just added to my site from my ConvertKit account.
If you want to see more, check out the video above. If you want to give it a try, and I highly suggest you do, consider signing up through a link on this site. The cost to you is the same, but I get a small referral fee for each user I send their way.
Questions, concerns? Leave them in the comments or shoot me an email.
Save