This morning I woke to the introduction of Mint Bills. Mint Bills is a brand new feature of Mint.com, stemming from parent company Intuit's purchase of payment service Check, which brings bill payment to the popular budgeting and money management site.
What Mint Bills Does
Mint Bills is a web and mobile app that allows you to track and pay your bills for virtually any credit card, loan, phone company, or utility in the United States. Just like with Mint's core service, you can link all of your bills to a single interface for simple tracking in one spot.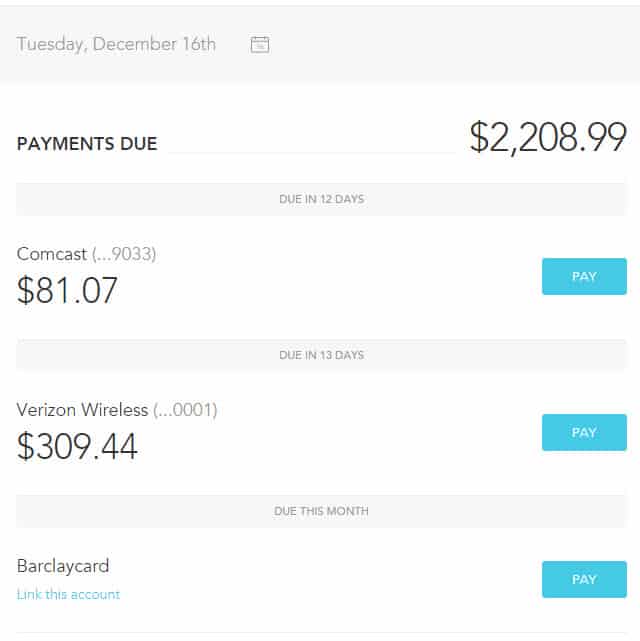 Once you've added all of your bills, you can see all upcoming bills in one place and pay your bills from the same interface. The site will send you reminders on upcoming bills so you don't forget.
You are able to pay all of your bills through the Mint Bills interface with either a bank account or a credit or debit card. Paying with a bank account is free, but paying with a card incurs a service charge. The fee is $4.99 for bills up to $125, and 4% of the bill amount for payments over $125. You can also choose to pay a $6.99 fee for expedited payments.
The Signup and Setup Process
Signing up for Mint Bills is a simple and straightforward process. You just choose what bills you want to pay and enter your account information. From there, Mint Bills grabs your list of accounts and upcoming payments due. For most bills, the setup process worked perfectly. However, I had to enter my information for one biller twice, and had errors entering my Barclaycard and Citi credit card accounts. At this point, neither of those accounts are working, but everything else I have, including my mortgage and utilities, are all added and working as expected.
When each biller was processed with a bill due, I received an email letting me know that the bill was due. These reminders will come for each new bill, and there is currently no setting I was able to find to change the email notification settings. In the long run, the reminders are great if you were not already getting reminders from the original biller.
Does not differentiate between bills on auto-pay and ones you have to pay manually, so if you add a bill like Comcast where you are automatically paying each month with a credit card, you will still get reminders from Mint Bills.
What They Could Have Done Better
The biggest downside I've found so far is that your Mint Bills account is completely separate from your original Mint account, and the two platforms don't play together at all.
I would have rather had this feature built into the existing Mint user experience, with the same account login and features through the account I already have. The Mint money manager allows for tracking upcoming bills, and that would have been a great place to add a Mint Bills platform. They already have all of my login information, so it seems silly to have to enter it again in a different account on the same site.
How Does it Compare to Bank Bill Pay
I have been using my Charles Schwab Bank bill pay and Capital One 360 Checking bill pay to pay bills for years. Mint Bills offers the ability to pay from those accounts, but why would you want to add the extra step?
If you want timely reminders and a much nicer interface for your bill payments, Mint Bills is a superior way to pay. Mint Bills also offers the credit and debit card payments, but I don't believe that to be worth the extra cost.
For me, I think I will stick with my bank's bill pay, but for many people who have trouble keeping their bills straight, this is a great tool to stay on top of things and save big on fees for missed payments.
If you want to give it a try, you can sign up for free at Mint Bills. Please let me know what you think of this new service in the comments!