Update: Adaptu has closed, but there are other, great and new services to try. Be sure to check out my up-to-date list of free money management tools and my new favorite Empower.
In the past, I have written a heck of a lot about Mint.com
. It has long been my favorite personal finance tool. Over time, however, while features have expanded customer service has declined. This encouraged me to try out other services.
First, I compared Mint and Thrive. Thrive is owned by the company behind Lending Tree and has excellent customer service and a unique look on budgeting. Rather than focusing on dollars spent, it focuses on the number of events. For example, "you can go to a restaurant two more times this month." Thrive is cool, but I still gave Mint a one up due to the interface.
Next, I compared Mint and Pageonce. In this round, Mint was a clear winner. Pageonce had one major benefit. Pageonce allows you to track your hotel and mileage rewards cards and bills. Mint does not. However, the interface was not as refined and I found the alert system to be a bit buggy.
And now, I present to you:
Interface and Navigation
Overall, Mint still has the best aggregator interface around. It is simple, sleek, and easy to navigate. Having only one navigation bar at the top and a few layers of options makes Mint a quick, simple site to use.
That said, Adaptu has a much more robust interface. You can look at the data lot of different ways and sort and funnel accounts with many different views and groupings. Sometimes, however, it is not very intuitive to find your way around through multiple layers of menus. The dashboard has a lot of great information if you don't need as many pretty charts.
Winner: Mint.com
Accounts
Mint has a lot of history and supports a lot of accounts. However, accounts break a lot. Just because your account is in the list does not mean it is going to work today. I have had accounts break for months with little response from customer service.
Adaptu does not have as many financial accounts, but it has almost everything else you can imagine. Like PageOnce, I can load in my frequent flyer accounts, hotel rewards points, retail rewards points, utility billing accounts, and more that I probably have not thought of yet. And, so far, they all work.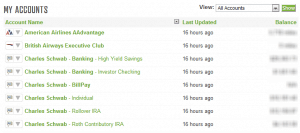 Winner: Adaptu
Analysis
The instant budget from Mint gives you an extremely easy tool to use right away. It builds your budget based on average spending and you can edit and tweak it as you like. This is a massive benefit. Beyond budgeting, however, Mint offers little help. Its investments tracking is full of bugs (it can't handle stock splits) and does not show all of my investment accounts accurately.
Adaptu also gives budget analysis, but it is much more labor intensive to setup. Unlike Mint's auto budget, you have to decide your own budget and put it in manually.
For the graphs that give a spending breakdown, Mint's interface is much more intuitive and pretty, but both give the same ultimate results.
Winner: Mint
Investments
Mint.com can't handle a stock split. That is a common occurrence, and it shows that Mint did not go to the level of development needed for investment tracking. Overall, the interface is fairly simple and gives you a performance history for each security and a portfolio comparison to the market. However, if it can't track a stock value correctly (like a split) and can't handle some of my mutual funds, it is not an accurate view.
Their heart is in the right place, but they didn't get the job finished.
Adaptu hit a home run on their investment tracking options. Adaptu worked hard to build a more detailed interface with a total investment view and a breakdown by portfolio.
Winner: Adaptu
Community
Mint.com has a blog. Adaptu has a full community discussion forum. You can discuss by topic and get ideas for methods to improve your finances. This is taking a page from the book of the now defunct Wesabe, but it is welcome back for those looking to connect with other like minded people.
Winner: Adaptu
Overall
I have used Mint.com for a long time and have no plans to leave it behind, but I now have two aggregators in my bookmark list. I use Mint for my overall quick view, but I have Adaptu for more in depth looks into my investment and my travel reward tracking.
If I were going to pick one to start with today, I would lean toward Adaptu, but I love the clean and sleek interface that Mint gives me. Like Thrive, Adaptu gives Mint a real run for its money. But unlike Thrive, which acts as a financial advisor for people who need more help deciding how to go forward, Adaptu gives you a more detailed look at your situation with more data and lets you make your own decision on how to act.