Earlier this week, I shared my 5 best mobile apps to save you money. Now, it is time for my favorite time savers. I use these for my to-do lists, idea tracking, businesses, and general productivity.
Every app on this list is free, though some have a paid, premium mode. I use the free version of each app mentioned.
Astrid
Astrid is my go-to task manager. It has all of the perks of my old task manager, Remember the Milk, but it also has great mobile integration, task sharing, prioritization, deadlines, and more.

I use Astrid every single day. I make sure to add and prioritize important tasks and priorities. I use it for recurring reminders, such as weekly freelance writing, for reminders, such as calling the bank, for a shopping list, and for longer term ideas and plans.
On the go, I use Astrid to throw ideas on my to-do list as I remember them. With Android, I can even do it by voice while driving so I can add items safely.
Evernote
Evernote is like a digital notebook on the web. I use both the web, mobile, and Windows interfaces to create, reference, and track notes in the cloud.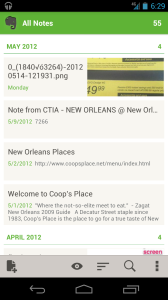 My favorite use for Evernote is project management. I recently used Evernote to help me track reviews and information for a new hard drive purchase. I am using it now to track my home remodeling projects. I also have a notebook full of date ideas.
It can really be used for anything. The mobile version allows you to read, cut, paste, add audio recordings, or add images. I recently used it at Home Depot to reference room measurements for a new hardwood floor.
TripIt
I could not handle my travel schedule and plans without TripIt. I admit it, I am addicted.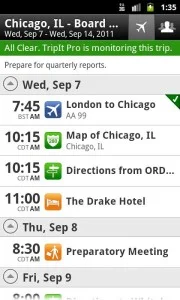 I love to travel. It is one of my favorite things in the world. TripIt automatically picks up travel information from my Gmail inbox and adds it to my calendar and tracks it for me.
When I am getting ready to go, TripIt has the weather for me. When I get to the airport, I just open TripIt and my reservation information is all there. When I land in a new city, I open TripIt and my hotel information and directions are all ready for me, along with confirmation numbers.
TripIt makes travel easy. A premium version also tracks your frequent flyer and hotel points information and does live updates on changes to your flight information.
Dropbox
I primarily use Dropbox on my desktop and laptop computers, but the mobile app is an important part of the value.
Dropbox is a free, cloud based storage folder for all of your computers and mobile devices. I use it to backup Quickbooks information and store website and freelance files that I might need on the go.
The iPhone and Android apps both have an automatic photo upload feature as well. That gives me an automatic and free backup of all of my pictures and allows for me to easily get to them on my computer for uploading to sites like Facebook.
I use Dropbox at least a dozen times every single day.
Google Calendar
Another app on my daily list, Google Calendar helps me track my schedule. I use Google Calendar on the web as my calendar nerve center that connects Facebook, TripIt, Outlook at work, and aggregates them all into one calendar of my life
The Google Calendar app is not the same thing as the calendar app built into Android. It has many value added features included more advanced event scheduling and notifications. Oh yeah, still free.
Slice
I don't really go to the store anymore. I do all of my shopping online. And I use Slice to track my purchases.
Slice makes tracking packages and online purchases a piece of cake. How easy? Like TripIt, Slice grabs my receipts from online shopping and automatically loads in the tracking and shipping information to the web and mobile interface.
When I am itching to know when my package will be delivered, I just open Slice and everything I want to know is there.
Your Turn
What are your favorite time saving mobile apps? Please let me know what I missed in the comments.
Image by Paul Lowry / flickr