For most of us, our smart phones are only a money drain. We pay at least $40 per month, on a family plan, or up to hundreds per month for unlimited plans, to get our calls and internet wherever we are. We can use those phones, though, to save us money. Here are my favorite free money saving apps.
Red Laser
Red Laser is an app developed by eBay. It allows you to quickly scan a product and instantly find other places to buy it. You will be given both online and offline options.
I recently used Red Laser on a trip to the computer store. I scanned a new modem/router combo and found it for $50 less online and scanned a surge protector and found it for $5 less online. I also scanned a wireless network hard drive and found it was $40 less where I was than anywhere else.
If it could save me $55 in one trip, imagine what it could save over months and years. Maybe even enough to pay for the phone!
ZipList
I use ZipList for two purposes. First, I use it as a recipe finder and organizer. It works with an interface on both my laptop and my phone. I also use it for my grocery list, which is where the money saving comes in.
I put together a healthy cooking list using the recipe function and load up the ingredients list to my phone with one click. I use that shopping list to guide me at the grocery store.
To save money, just stick to the list and buy store brands whenever possible. Most people waste money at the grocery store by deviating off their list. As a bonus, use ZipList to find recipes with lots of fresh fruits and vegetables. Those are generally money savers, particularly if you buy in-season produce.
Empower
Empower is another tool with both a website and mobile app. I primarily use Empower to track my investments, as it is much more powerful for investment tracking than any alternative, including Mint and Adaptu.
When I signed up and loaded my accounts into Empower, I found that certain mutual funds in my portfolio had fees much higher than comparable funds from other companies. I ended up selling two ETFs and buying into a Vanguard high dividend yield fund. It projected thousands of dollars of savings by the time I retire.
I also used Empower to analyze my 401(k). It sure gives good motivation to roll-over your 401(k) if you leave an employer.
Empower has premium services for a charge, but the basic service, which is what I use, is 100% free. It also includes account balance tracking and spending analysis for all of your bank accounts and credit cards.
GasBuddy
Yesterday, I drove down to the Shell gas station near Flatiron Crossing mall and filled up my tank for $3.09 per gallon. That station, conveniently located about a mile from my office, had the cheapest gas in the Denver area. Without GasBuddy, I would have had no idea there was cheap gas so close.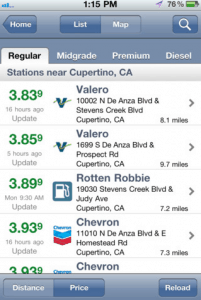 Had I gone to my regular gas station on the way home, I would have paid about .20¢ more per gallon, or $2.00 total. Sure, $2.00 isn't that much, but if you do this once a week, that could save you over $100 per year.
KeyRing
I use KeyRing for two reasons. First, it makes my wallet smaller. Second, it saves me money.
KeyRing allows you to load up all of your loyalty and membership cards that have a barcode. My local grocery store is King Soopers (Kroger). I put my Sooper Card number in my phone, and the cashier just scans my phone for my discounts to apply.
In addition to this feature, which works at almost any store in America, the app also sends you coupons based on where you already shop. If you already shop there, you might as well save the money.
Your Favorite Money Saving Apps
What are your favorite money saving apps? Please share in the comments.
Images are screen shots from the respective apps. Header photo by jyri / flickr