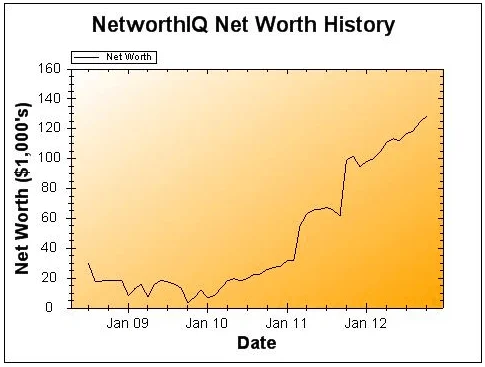 This month was pretty standard. I had one out of town trip, a mountain weekend getaway with my girlfriend, but no expensive flights. I made money, I saved money, and I increased my net worth by over 3%. Here is how it all came together.
Banking, Debt, and Investments
For my retirement, I am using automated investing to maxing out my Roth IRA and save 5%, plus a 4% match in my company's 401(k) plan. I don't miss the money and I am used to the cash flow.
This month, I opened a new account with Prosper to invest more in peer to peer lending. I already had a good account with Lending Club, so starting up with Prosper was second nature. I added $100 to start. You can get started with either for only $25. I have had returns over 10% with Lending Club, so I plan to do more with P2P over time.
Liberty Fund Update
I have a $30,000 savings goal for my liberty fund. Saving up $30,000 is not easy, but it is a goal that I know I can attain. This month, I added $1,000 to the fund which brings me to a total of $15,136. This is an increase on my$5,000 emergency fund goal.
Side Business Income
Narrow Bridge Media – All Blogs and Online Activities
Revenue
Private Ad Placements and Freelance Work – $275
AdSense – $25
Affiliate Payments – $54
One Time Freelance Project – $2,000
Expenses
I have started working on new freelance projects, and I am excited to see where they go. I am projecting $100 per month from my most recent weekly freelance posting.
Denver Flash Mob
Revenue – $310
Expenses – $110
I have changed the strategy of Denver Flash Mob from large, public events to flash mob consulting. This puts the entire planning and execution of the event on me, but removes the burden of recruiting all of the dancers. I will test the waters and see how this goes moving forward.
DJ Yofi
This month, I had the opportunity to DJ a wedding for the first time. Cool stuff! It went well and I plan on more private parties in the future.
Net Worth
Not a bad month at all. My side income is becoming a growing and more important part of my savings plan. I am happy to see a net 3.38%, or $4,200, increase in September!