If you regularly read my online income reports, you know that I make most of my online income from freelance work. While I love this blog, and it led to nearly all of my freelancing opportunities, my bread and butter online is article writing and website design and support for other bloggers and companies.
Along the way, I learned a lot about managing your hobby business professionally. In fact, I have come so far that I am going to speak at FinCon15 this fall on the topic at an "ask the expert roundtable" session! Here's a preview of what I'll cover, and how you can get started as a freelance professional from the get go.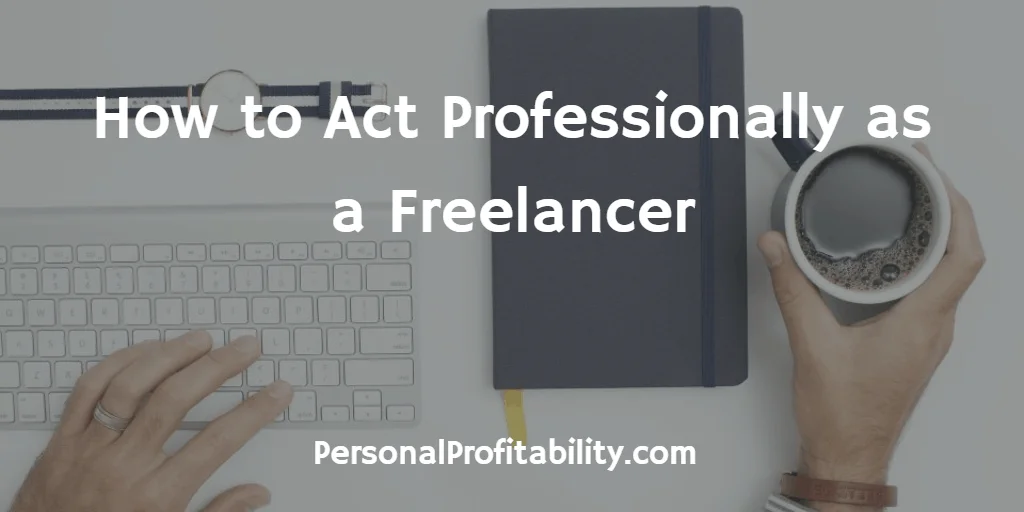 Have Your Own .Com Website
The first step to presenting yourself professionally is giving yourself a small piece of internet real estate to market your services. This can be a page on your blog, if you are already a blogger, or a new site dedicated to your freelance services, such as what I have for Narrow Bridge Media. I did both.
Making yourself easily discoverable is incredibly important. Depending on your goals, you could try to get your own name .com or create a company website. Again, I've done both, but this has probably diminished my brand compared to having a single online home.
If I had known what I know today, I would have had one online home for all of my professional doings using my own name. However, getting my name's .com would cost me a couple of thousand dollars (stupid domain squatters!), so I've done as well as I can with what was available and tried to clean up my multiple domain approach to streamline things.
If you don't know how to build a website, don't fret. You can register a domain name and hosting and get your site online in only a few minutes using WordPress, the content management system behind all of my websites. A good place to start on a budget is Hostgator, which starts at $5 per month. Once you make more money, you might want to upgrade, but budget hosting is fine while you are starting out.
I register my domains using GoDaddy, but also have domains registered at NameCheap and have been trying out Google Domains.
Hostgator offers a one-click WordPress install, and the backend is very intuitive to get the basics setup in just a few minutes. Of course, you could spend hours and thousands of dollars on your site, but that is not needed when you are new. Just get something up there with your own .com that you own and control.
Use a Professional Email
Now that you own your own .com domain, you can setup your own professional email address. If I received an email from a freelancer using an @aol.com email, I might not hire them. Using a poorly selected email address tells people that you are not using the best technology and are behind the times. That is not something you want to project.
If people have @hotmail.com or @yahoo.com addresses, I think more highly than old aol.com emails, and @gmail.com is even better, but your best bet is [email protected].
Once you register your domain, you can use a free Gmail account to receive and send from your new address, or you can upgrade and use a paid email-hosting program or the one from your web host. I prefer fetching my emails using POP3 from my web host and have setup Gmail to reply from each of my website's email addresses.
If you are using Hostgator, or any CPanel based host, you can create new email addresses in just a few clicks.
Have Professional Social Media Accounts
You don't have to setup a social media account on every platform, but social media can be a great place for new clients to discover you. If you are on a platform, make sure to put your best foot forward. This is great for both your full-time day job and side hustle income.
Important locations to be discovered:
LinkedIn – LinkedIn is the professional social network, so having a presence here is an important starting point. You may choose to skip this if you need to keep your moonlight freelancing private from your employer, but it is helpful to add your side business as a second job on your profile if you can. You might also want to create a business page, like my much-neglected one here.
Facebook – It is time to get rid of those drinking photos from college if you have not done so yet. Now it's time to have a grown up Facebook profile. Share industry related news and blog posts publically so savvy searches can find your and quickly see that you are well versed in your areas of expertise. You can also create a business page, such as this one.
Twitter – People really do find jobs and gigs with those 140 character messages. Even if you are not a regular Tweeter, be sure you have a presence here. If you already have a Twitter account, consider whether it fits with your business brand and if you are better to use that account or add a second.
Pinterest – It is hard to be everywhere, and some industries do much better on Pinterest than others. If your target audience is here, you should be too.
Send Professional Invoices
When your client asks for invoices to get paid, then it is time to make invoices! I use my accounting system, Quickbooks, to create monthly invoices for each client on the first of the month for all work performed in the prior month. For example, I send an invoice on May 1st for all April staff posts submitted.
If your client specifies a way to send invoices, follow directions. Some want PayPal invoices, others want printable invoices. I send a PDF of each invoice generated by Quickbooks. Here are some good options for invoicing:
Quickbooks – If you use this for bookkeeping, it is a no brainer for your invoicing. This program has long been the small business accounting standard, though other products give them a run for their money. I use the desktop version to avoid monthly recurring charges, but an online version is available as well.
Wave Accounting – If I were not on Quickbooks, this is what I would be using for both bookkeeping and invoicing. Wave is free for most freelancer uses, including invoicing. You generally don't have to pay unless you are paying staff.
Freshbooks – This is a paid, web based bookkeeping and invoicing app. It is very popular among freelancers due to their easy-to-use invoicing and payments features.
Invoice To Me – Create simple invoices online. They are not tracked like in a bookkeeping program, but it helps you create professional invoices for free.
Word/Excel – There is no reason you can't create an invoice from a free template using programs you already have. If you're a Mac person, you can use the built in pages and spreadsheets programs.
WordPress – For my flash mob business and website development projects, I use a free WordPress plugin called WP-Invoice. This integrates with my website seamlessly and allows me to send invoices and get paid via PayPal and Stripe. It is free for the basic version, which is what I use, but some paid features are available as well.
Get Paid However the Client Prefers
Just because you like getting paid with PayPal does not mean your client likes to pay that way. Whatever they prefer, take their money!
To do so, you'll need a real checking account for your business. In the past I have used a local bank that offers a free small business checking account, but I outgrew them and now have my checking account at Chase. The account has no fees as long as I keep a $1,500 balance, which is no problem at this point for my business.
If you are brand new, take a look at Gardner Bank. They have a free small business checking account, but their bank does not play well with applications like Mint.com, Quickbooks Online, or Wave Accounting. I have an account at Gardner Bank, but am closing it as it has been replaced by my account at Chase. Chase offers much more robust features and easily works with my accounting software.
If you don't know how to start a small business bank account, you'll need some paperwork. If you are a sole proprietor, you will have to register as a DBA with your state. I have an LLC registered with the state and a Federal EIN (the business version of a social security number), which I used to open my account.
Monthly Bookkeeping is a Must
I just touched on bookkeeping programs, but this deserves another mention. Keep track of every cent of business income and business expenses using whatever program works for you. Whether it is Quickbooks, Wave Accounting, or something else entirely, keep track of everything!
First off, you will save yourself a ton of time when tax season rolls around. The IRS requires us to report every dollar we earn, even if the payer does not provide you a 1099. This is the law. Sure, you could try to under report, but why risk the fines and penalties if you get caught?
Second, you can write off your business expenses! Even if you are not a registered LLC or corporation, you can write off business expenses that relate directly to your freelancing work. New computer? Write it off. Printer? Write it off? Website expenses? Write them off! You get the point. I wrote a full guide to writing off small business expenses here.
Fake It Till You Make It
No one ever started a business knowing everything at the start. We all make mistakes and learn along the way. With your business, treat it like a business. As long as you do so, others will notice and treat you with more respect.
Fake it till you make it may be cliché, but it is very true in this situation. If you have a skill someone is willing to pay for, capitalize on it. Act like a professional. Before you know it, will you will be there.
Do you have any questions about turning your hobby into something a bit more professional? Let me know in the comments, or drop me a line through the Ask Eric page.