For the first time in years, I totally forgot to update my net worth on the first of the month. I guess all of the changes in my life are a bit distracting. Here is my slightly belated March net worth update.
Banking, Debt, and Investments
My refinance is behind me, and I am now in the two months between my roommate leaving and my girlfriend moving in. That means that all of my condo costs are falling on me. I would not have refinanced my mortgage to a higher monthly payment if I were not able to afford it on my own (and the bank would not have approved it), so everything is fine, but I'm saving a bit less than usual.
I am pushing forward adding $25 automatically each paycheck into my Lending Club account. My net annual returns at Lending Club are 11.01%. I currently have 31 active loans, 1 in funding, and 10 fully paid. I love Lending Club as an alternate investment vehicle.
Liberty Fund Update
I have a $30,000 savings goal for my liberty fund. Saving up $30,000 is not easy, but it is a goal that I know I can attain as long as I keep focused. This month, I was able to keep adding despite living alone.
I started saving in August and I am excited to hit one major milestone. I now have $15,000 in savings accounts. I am planning to put the remainder in higher interest investment accounts.
My current balance is $19,005. The bulk of my liberty fund is in a high interest savings account. I suggest Ally Bank for this type of savings. This is an increase from my $5,000 emergency fund goal.
Side Business Income
Narrow Bridge Media – All Blogs and Online Activities
Revenue
Private Ad Placements and Freelance Work – $1,058
AdSense – $26
Affiliate Payments – $140
Expenses
Freelance Writers – $60
Web Expenses and Development – $110
Good month overall. Always like beating the $1,000 revenue mark.
Denver Flash Mob
Revenue – $150
Expenses – $0
The completely rebuilt the Denver Flash Mob website is sending me more business leads, but I don't always have the ability to meet the requests. I have a couple of events in the works for the spring and early summer!
DJ Yofi
I did one show on New Years Eve for Denver Underground Parties (see below).
Denver Underground Parties
I started a new project with two friends called Denver Underground Parties. We had our first successful event on New Year's Eve, and it was a profitable party. We have not paid ourselves from the earnings yet, so I will hold off on sharing the profits.
Net Worth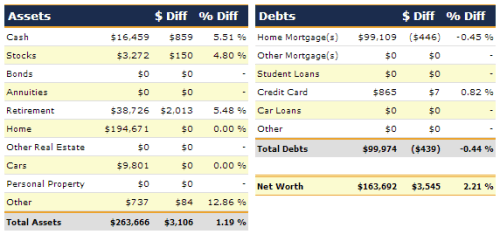 In total, my net worth was up $3,545, or 2.21%. I update my condo value from Zillow and update my car value based on Kelley Blue Book annually in January. I pay off my credit cards in full each payday.