I hope everyone had a great Thanksgiving. I spent the first half of the week in sunny Santa Barbara, California and the second half of the week in Palm Desert. I had a great time with my California in-laws and I'm excited for two trips this month, to visit my Grandma in Kansas City and my family back in Denver just before New Years.
Also, if you are not already a member, be sure to join the Narrow Bridge Finance email list. This weekend I sent out a special deal to get $20 at Amazon.com for free signing up for Empower, a site I use myself and write about regularly on this site. The deal only went out to email subscribers, so if you only read the site on the web, you missed out. I would love to have you join, though, and you can in just a few seconds through one of the forms on the site or through this link.
What's Eric Up To
This month marks one year since I packed up and moved across the country to Portland, Oregon from my hometown in Denver. Last month I shared that we are under contract on a home, and I am excited to share that we are scheduled to close this week! On Monday morning we are signing the paperwork to buy the home and sending off the big wire from our checking account to the title company.
Because of how the laws work in Oregon, we can't get the keys on the day we sign and "close" like in other states. Here, we have to wait for the county to stamp the papers and recognize the sale as complete, so we should get the keys on Tuesday or Wednesday at the latest. From there, we have to pack up and get moving. We are moving about two miles from where we live now, so we are moving most of the small stuff ourselves. We have hired movers to take care of the furniture and big items that won't fit in J's SUV.
Watch out Portland! It looks like we're going to be sticking around for a while. If you're interested in what it takes to find and buy a home, be sure to check out my Home Buyer's Guide: From Search to Move-In.
Tax Time is Coming Soon
I may be one of the only small business owners who gets excited about tax season, but we are about a month away. This year, I plan to do my own taxes using H&R Block online, but TurboTax was a close runner up. I picked H&R Block software because of my small business needs, but if I were just doing individual taxes I might have picked TurboTax.
I've also spent some time cleaning up my Quickbooks and getting everything ready to fill in my Schedule C information for my small business income and expenses. Follow this link for $50 off the newest version of the edition I use, Quickbooks Pro, until January 3rd.
Follow these links for a 15% discount on H&R Block Online or H&R Block download edition.
Side Business Income
Narrow Bridge Media – All Blogs and Online Activities
Over the last couple of months I made some hard choices at Narrow Bridge Media. I decided to cut a service I was offering to a client to make room for other projects. I decided that my social media management service was not paying me enough for the time I was putting in, and ended my relationship with my one client there in November. I picked up two new freelance writing clients and the work there will more than make up the income and with less time spent. I have yet to ever miss a client deadline and always work to deliver quality work consistently. To help with some scheduling and growing pains, my wife J has taken a little bit bigger role in the "family business" too.
Let's see how I did in November on my $2,500 per month revenue goal. I think I should also add in an expenses goal, but those have been very volatile with some computer and software purchases and annual events, so it is harder to plan and budget. I did keep expenses relatively low this month, which is a big help.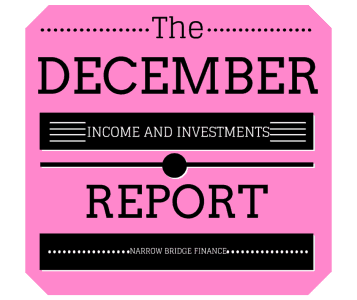 Revenue
Web Design Earnings – $194
Freelance Writing – $1850
Social Media Management – $200
Affiliate Payments – $36
AdSense – $6 (Testing phasing out AdSense)
Advertising & Partnerships – $144
Premium Plugin Sales – $0 (Thesis Post Image Converter available at CodeCanyon)
Expenses
Email List – $19 (Provided by Aweber)
Web Hosting – $21 ($15 per month for LiquidWeb and $5 per month for Hostgator – both paid annually)
Outsourced Workers – $135
Domain Fees – $65
Conferences & Events – $154
Computers & Software – $117
Misc – $5
Total Revenue: $2430, Total Expenses: $475, Total Profit Before Tax: $1954
Denver Flash Mob – Flash Mob Consulting and Planning
I have my email issues fixed, and have had some conversations about upcoming events. Nothing in the pipeline today though.
Revenue
Expenses
Total Revenue: $0, Total Expenses: $0, Total Profit Before Tax: $0
Investments
Retirement
I am all up and running with my automated investments at my new job. I am taking 100% of my available 401(k) match, which requires I put 6% of my pay to receive a 3% match. I am also taking advantage of myemployers stock purchase plan to buy stock at a 15% discount, as I believe that is a great investment. I also maxed out my Roth IRA for 2014 with side income earnings before starting at this job. Read more about my automatic investing in my retirement accounts to see how it all works.
If you have an opportunity to get any employer match, make sure you are taking 100% of that or you are leaving free money on the table. If you have any old 401(k) plans from former employers, make sure to roll them over into an IRA where you can save on fees. I just rolled over my 401(k) from my old employer to my Rollover IRA account at Charles Schwab last week.
If you are not sure where to start with retirement investing, be sure to check out Betterment as an option. I have been a customer myself and recently joined their writing team.
Individual Stock Portfolio
For most people, buying individual stocks is not the best way to invest. It is much smarter to just get a low fee S&P 500 index fund and wait it out. But I have extra education in investments and I'm always trying to beat the market. Here is my current list of all individual stock holdings.
Schwab Portfolio:
AMZN – Amazon.com
BLK – Blackrock
BA – Boeing
CSCO – Cisco Systems Inc
GE – General Electric
JPM – JP Morgan Chase
KR – Kroger
PM – Phillip Morris International
SBUX – Starbucks
TEVA – Teva Pharmaceutical Industries ADR
WMT – Walmart
WYNN – Wynn Resorts
Loyal3 Portfolio – 100% Fee Free Trades:
BRK.B – Berkshire Hathaway B Shares
GPRO – GoPro
SBUX – Starbucks
I have automatic monthly investment in SBUX and BRK.B in my Loyal3 account, which, like the IPO, has no trade fees. Here is a post all about how Loyal3 works.
Investment Analysis
The best tool I have found to help me keep my portfolio balanced is Empower. The site helps me track and manage my bank accounts and credit cards too, but the site has helped me save hundreds of dollars per year by showing which investments are charging the biggest fees and how to balance my portfolio for my goals and risk tolerance. The site is completely free.
The stock market continues to reach new highs and there seems to be little getting in the way of more growth ahead. There are always bad days, but over the long run the stock market has always gone up. If you are new to investing be sure to check out my in depth guide to the stock market to get started with investing.
This past month, my Lending Club account had three loans go past due, which is more than I have ever had combined. This lowered my annual return to 9.7%, but that is still much better than any bank account or most investments will return. I currently have 48 active and current loans, 2 past due, 35 fully paid, and 2 charged off. I have earned $296 in interest, so even with my losses and the potentials on the horizon, I am still way up overall. Including cash, my adjusted account value is $1,031.80.
If you want to know exactly how I make over 9% with Lending Club, check out my in depth guide to making money with Lending Club.