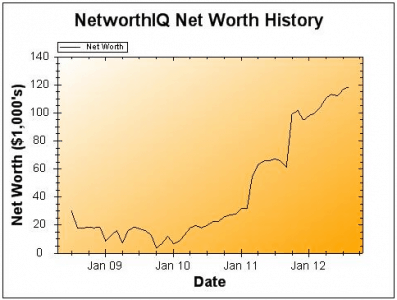 This month, I spent more than usual but still had enough income to make up for it. My biggest expense, which was in my long term plan but not expected to be this month, was a new painting when I made my first investment in fine art. I also enjoyed a couple of great concerts and a trip to Minneapolis this month.
Banking and Debt
I have gotten used to my new automated investing in my retirement accounts. I am maxing out my Roth IRA and saving heavily in my company's 401(k) plan. Even when the markets are shaky, it is good to keep putting money away. In a Roth, you can choose from any investment, so you don't even have to invest in stocks. 401(k) plans have fewer options, but it is still good to make tax advantaged investments.
I decided to pull back some of my over payments on my mortgage to put more info my savings, which I am now going to refer to as my "liberty fund."
Side Business Income
Narrow Bridge Media – All Blogs and Online Activities
Revenue
Private Ad Placements and Freelance Work – $601
AdSense – $9
Affiliate Payments – $0
Expenses
I have started working on new freelance projects, and I am excited to see where they go. I am projecting $100 per month from my most recent weekly freelance posting.
Denver Flash Mob
Revenue – $450
Expenses – $6.40
Net Income – $443.60
I have one outstanding past due invoice and two events in planning. I have changed the strategy of Denver Flash Mob from large, public events to flash mob consulting. This puts the entire planning and execution of the event on me, but removes the burden of recruiting all of the dancers. I will test the waters and see how this goes moving forward.
I changed my accounts receivables policy. I now require an up front payment when I start the choreography and the balance the day of the event. This will keep me from losing money on the choreography and not getting paid.
DJ Yofi
No revenue or expenses this month. I have been booked for an upcoming wedding.
Net Worth
Overall, things were good this month. I am excited to see my mortgage balance under six figures. After last 4% increase, I was happy to follow up with a net worth increase by of nearly 2% in July.