Summer is upon us, and that often means a "summer lull" for online workers. I don't have time for a lull, however, so I'm working at full throttle for my first full month working from California. Let's see how the cookie crumbled in May, and what I have up my sleeve for the next few months.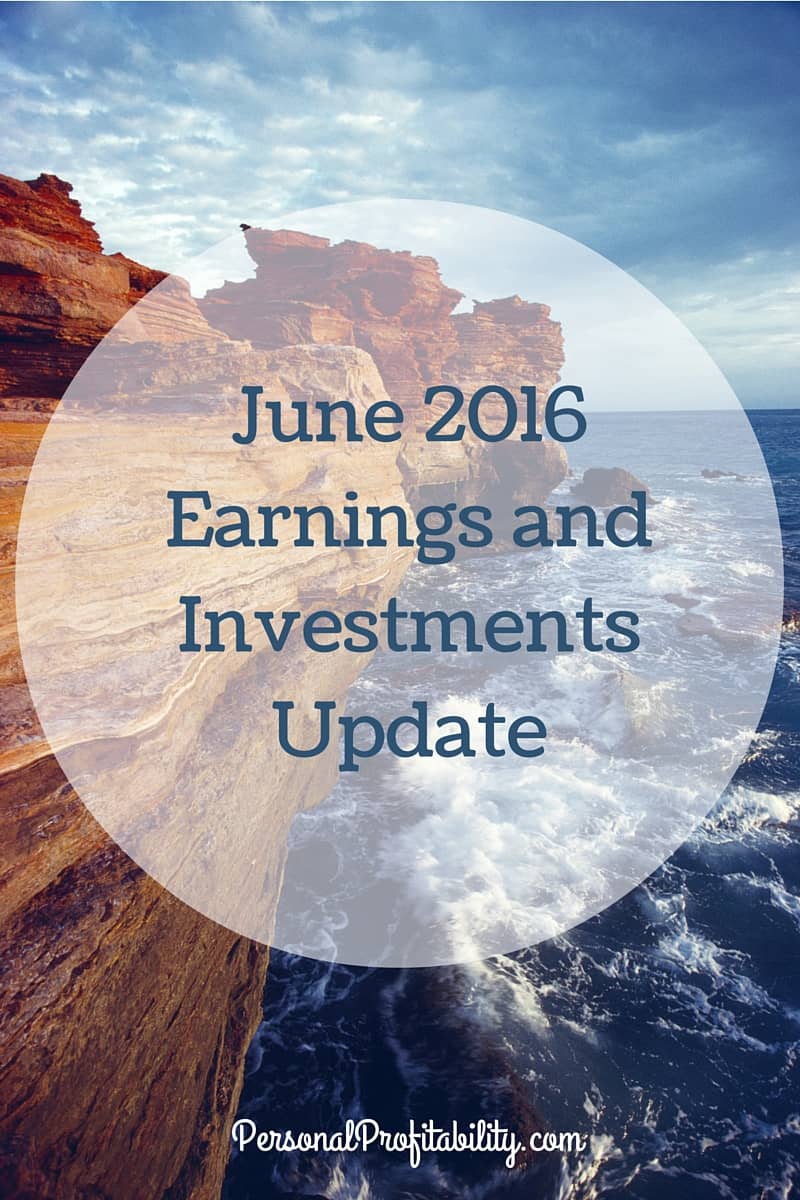 What I'm Up To
After a wonderful trip to London and Paris, I came home to actually get settled into our new apartment. I'm getting a better lay of the land here in Ventura, and have taken a couple of excursions out to the Los Angeles area to see friends and for a finance blogger meetup.
Now I'm working on getting into a regular work schedule in my self-employed life. I'm finding that I am not quite as productive when working at home without the home office I left behind in Portland, but my new co-working space is an excellent alternative. I find that I usually head there around 9am or so, work until lunch, come home for lunch, and work at home or a nearby coffee shop or brewery for the afternoon until 5 or 6pm.
It didn't take long for me to get all caught up on my client article queue, and website design work seems to come in waves, so I'm spending more time than ever before on pitches and correspondence with potential new clients. I have to keep the hustle on at full throttle to keep my income at where it was with the day job. But I wouldn't trade what I'm doing now to go back to the office for anything. I'm loving this lifestyle so far.
I used to stare at the clock a lot of the day. Now I find I'm surprised to see that the day is gone, and I wonder where the time went. But I already know the answer. It went to doing work that I love and I'm proud of. So far, the risk is paying off well in terms of my happiness, and I'm already beating my day job income in less than two months!
I'm here enjoying California life until the end of the month, when I take off for a double trip. First, I'm going to Aspen for the 4th of July holiday with my wife's family. When they hop on a plane back to California, I head to Chicago for Podcast Movement, a conference dedicated to all things podcasting. I want to learn how to improve my show, grow my audience, and turn that from a money sinkhole into a profit.
I typically spend about $30-$40 per episode for production and transcription costs, which is being subsidized by other parts of my online business. The audience has been slowly growing, but not where I want just yet. If you have not given it a listen, check it out today. It's free!
Side Business Income
My online income tracker shows my entire history of online income since I began tracking, and it shows how volatile freelance work can be, particularly when doing it part-time. I update the page monthly when I remember with all of my online income histories since I began tracking monthly.
I set a revenue goal of $52,000 this year for my online businesses at the end of last year. That is $1,000 per week. But now that it is my full-time job, I am increasing my goal to $6,700 in monthly profits. Revenue is great, but I can't pay the bills unless the business is profitable. By the end of the year, I am aiming for $10,000 in monthly revenue.
For my first month fully self-employed, I hit a home run. And I spent half of the month galavanting around Europe. We'll see how full-time in Ventura offsets the summer lull.
Revenue – Goal: $10,000 monthly by the end of the year
Advertising Income (Affiliate + Direct) – $0
Freelance Income (Website Support & Freelance Writing – $3,441
PayPal Income (Freelance + Direct Ads) – $4,876 (I'm trying to figure out how to allocate this in Quickbooks)
Product Sales – $0 (Thesis Post Image Converter, eBook here or Amazon)
Expenses
I now pay myself a weekly salary through Gusto, an online payroll management service, and the business pays for my family's internet and health insurance as employee benefits. Because of that, expenses look a little different than they used to. I'm going to include my salary as an expense here, but not include it in the total, as those dollars are directly benefitting me.
Advertising & Promotion – $33 (new business cards)
Computer and Website Expense – $80
Cost of Labor – $1,474 (includes salary and benefits – not included in total below)
Employee Moving Expense – $7
SG&A – $69 (Coworking Office Space)
Outsourced Labor – $195
PayPal Fees – $33.25
Taxes Paid – $79 (includes payroll taxes)
Telecom – $176
Travel – 157
Total Revenue: $8,317 Total Expenses: $843, Total Profit Before Tax: $7,474
Because the business is now an S-Corp, the business P&L is separate from my own personal income. The business results at the end of the year will be included in my personal income taxes on a schedule K-1, where I used to use a Schedule C. This is important, because my salary is subject to "self-employment tax," and business profits are taxed at my regular income tax rate, which is lower.
I still have to pay myself a salary the IRS would consider reasonable for my job. As a first year full-time writer and web designer, the business is paying me $35,000 per year. Any business profit above that is paid to me as a dividend.
An S-Corp typically makes sense when earning around $40,000 per year or more from a business. There is some gray area between $40,000-$50,000 depending on the salary you pay yourself. Over that $50,000, an S-Corp is almost always a better deal even when taking into account extra costs with an accountant or attorney. Learn more about an LLC vs. an S-Corp here.
If you are new here and want to see more history, check out my earnings by month since 2012 at my online income tracker.
Denver Flash Mob – Flash Mob Consulting and Planning
My wife has officially taken over duties running Denver Flash Mob, which is giving me more time to work on freelance projects and this website. She's doing an excellent job as the Chief Operating Officer / Chief Mob Officer. We have run into some schedule issues being remote owners, but we've been working through them. Not much happened in the last few months, but we generally see an uptick in the spring.
The business is profitable and typically covers at least 1-2 months of rent/mortgage payments per year. Because it is not a major income or expense source, I will be removing it from these reports each month and instead offer periodic updates.
Automatic Savings
A few months back I signed up for Digit, and automated savings account that you manage via text message. Here is how my savings have added up with zero work on my part. The more I use it, the more I love it for how easy it is to use. With the demise of my 401(k), I may use this as my new saving source for our Roth IRAs.
Total Savings Since Joining: $4,676
Number of Transfers: 182
Average Transfer Size: $26
If you're interested, sign up for Digit here.
Investments
Retirement
If you have a full-time job and can get a 401(k) match, always take advantage. Since I am moving to the world of self-employment, my retirement savings are changing a lot. Here is a snapshot of my long-time automatic investing in my retirement accounts.
I am temporarily pausing retirement account contributions while we save up a bigger emergency fund and the business income grows.
If you have an opportunity to get any employer match, make sure you are taking 100% of that, or you are leaving free money on the table. If you have any old 401(k) plans from former employers, make sure to roll them over into an IRA where you can save on fees.
If you are not sure where to start with retirement investing, be sure to check out Betterment as an option. I have been a customer myself and love the ease of use of their product. (Disclosure: I used to write for Betterment on occasion)
Individual Stock Portfolio
While I think most people are better off investing in low-cost funds or through a service like Betterment, I have a lot of financial education and do my best to make what I can in the stock market. I'm not perfect, but I've done pretty well. If you want to learn more about investing, check out my complete beginner guide to the stock market.
I have my individual stock portfolio listed below. In addition, I have (much more sizeable) investments in diversified funds for retirement and a holding of my former employer company stock in an employee stock purchase plan account at Fidelity.
Stock portfolio: GOOG, AMZN, BLK, BA, CVX, CSCO, COP, XOM, GE, JPM, KR, PM, SBUX, TEVA, WMT, WYNN
Market Value: 14,490. Cost Basis: 11,606. Current Profit/(Loss): $3,424 or 30.94%.
In addition to Charles Schwab, I have an account at Loyal3. Loyal3 offers 100% fee free trades and the ability to participate in IPOs, also with no trade fees. Here is a post all about how Loyal3 works.
If I did not have such great benefits from Schwab, I would seriously consider moving my primary investment account to TradeKing. I met their team at this year, and their product has grown to be a top-notch investment account offering. And trades are less than $5!
My Favorite Investment Analysis Tool – It's Free!
The best tool I have found to help me keep my portfolio balanced is Empower. The site helps me track and manage my bank accounts and credit cards too, but the site has helped me save hundreds of dollars per year by showing which investments are charging the biggest fees and how to balance my portfolio for my goals and risk tolerance. The site is completely free.
The stock market has taken a beating so far this year, but that doesn't mean all is bad. The stock market moves in cycles, and time and again we see that timing the market doesn't work. Instead, remember to focus your investments on the long-term return. If you are new to investing be sure to check out my in-depth guide to the stock market to get started with investing.
After a multi-year amazing run with no defaults in my Lending Club account, I have been disappointed to see more losses lately. Even taking out past due notes, my net annualized return is still an impressive 7.7% return on my investment. This is much better performance than any bank account and most investments. I have earned $507 in interest, so even with my losses and the potentials on the horizon, I am still way up overall. Including cash, my adjusted account value is $1,119. Because of recent losses, I have been holding onto the cash in my account while deciding on a new plan.
My Notes at a Glance:
Not Yet Issued – 0
Issued & Current – 51 – $951
In Grace Period – 1 – $16
Fully Paid – 55 – $1,374
Late 16-30 Days – 1 – $22
Late 31-120 Days – 1 – $10
Default – 0
Charged Off – 11 – $204
If you want to know exactly how I make consistent returns with Lending Club, check out my in-depth guide to making money with Lending Club.