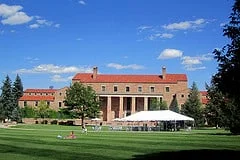 If you are about to head to college or have a future student in the house, it is a good idea to understand all of the extra fees you might be getting yourself into. This is no surprise too me, a six year student (four undergrad, two grad), that college costs a lot more than the sticker price.
Smart Money did a great report on the topic. One fee that you might not expect is a student activity fee. At CU, I had to pay some pretty steep fees. You can see a schedule of fees at the bursar's website. Here is what Smart Money found:
Student activities: $270
The extracurricular activities on campus look free, in that students don't have to pay to attend them. Instead, there's a student union fee tacked on to tuition bills to help pay for the student newspapers and activities like dances. At the Massachusetts Institute of Technology and the University of Maryland, it's $272 for the year. At California State University, Fresno, it's up to $109 per semester to pay for the recreation center, plus a $34.50 student body fee for support of on-campus student organizations.