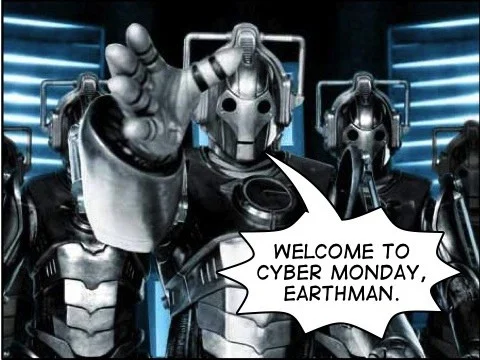 Hopefully you have all successfully navigated the spending trap of Black Friday and you are doing your best to keep to your budgets on Cyber Monday. I know that I skipped Black Friday completely. The only thing I gained this weekend was about five pounds! If holiday spending has you down, be sure to read through the amazing posts below in this #389th edition of the Carnival of Personal Finance.
If you know anything about me or about this site, you know I am not a huge frugality guy. However, I am against wasting money and planning out your spending to get the most value from each dollar. Either way, just know that I am kind of a big deal, and as a big deal, I am an authority on other people that are kind of a big deal. Every post below is awesome, so go check them out, learn, share, and enjoy!
<shameless-self-promotion>You should also know that I have a sweet eBook, and you might even be able to get it for free!</shameless-self-promotion>
Editor's Picks:
Money Thinker from Money Thinking knows that many people are trying to save money on holiday travel this year. I am a huge fan of discovering new parts of my own city, and this guide to planning a Stay-cation will help you do it.
Neal Frankle from Wealth Pilgrim gives us a new guide on How to Live On One Income. Surviving on a single income used to be a central component of the American Dream. The cost of living has increased substantially in recent decades, making single income households a lot more rare than they once were. But you can learn how to live on one income if you are motivated to do so.
Miss T. at Prairie Eco Thrifter has tons of great advice for your home. This week, she asks whether we should Invest in Renovations or Purchase a New Home?. There are obviously a variety of important factors that are going to influence a very large and weighty decision like this, and it's not one that's to be made lightly. Here, she explains a few of the most important things to consider when you're deciding to renovate the home you've got or simply find a new one for you and your family members.
The Dividend Guy Blog tackles a hot topic in the personal finance world. Many finance bloggers say that we should avoiding picking individual stock, but TDG tells us Why Bother Investing in Dividend Stocks When You Have ETFs?
Martin at Start Freelancing Now presents Proof That Right Now is The Best Time to Make Money Online. Some of us make a lot of money online, and others are struggling to get started. Whether you are new at online income or a ten year veteran, this is a great guide to starting or increasing your online income streams.
Holiday Budgeting
Lily from Paying Debt Down presents Tis the Season for Layaway, and says, "Gift giving is right around the corner, so why not take advantage of layaway."
Kacie from Sense to Save presents Let's stop this Black Friday madness, and says, "Black Friday hours have gotten way out of hand. Door-buster deals on Thanksgiving now? Enough is enough."
Liana Arnold from Card Hub Blog presents Mobile Gift Cards: Coming to a Holiday Wish List Near You, and says, "Gift cards – the most requested, and apparently the most forgotten, gift. With the introduction of mobile gift cards, perhaps consumers won't waste quite so much of their money!"
Budgeting
Matt from Budget SNOB presents What Exactly is a Budget?, and says, "Do you really know what a budget is?"
Career
Teacher Man from My University Money presents Financial Support for Rural Students in Canada, and says, "I have always found that one of the major divides that gets little-to-no press across post-secondary campuses in Canada is the rural-urban split. It has always amazed me that young adults who lived with their parents and paid no rent would pour so much energy into picketing minor tuition freezes."
DPF from Digital Personal Finance presents Income is Important!, and says, "Step one in acquiring wealth is making money! Let's explore what happens to us when we lose income, in order to illustrate just how important it is!"
Mike from The Financial Blogger presents Does Your Dream Job Have to Pay Well?, and says, "We look at the income situation with a dream gig."
Sam from The New Business Blog presents How To Run A Great Business from Your Home, and says, "Now may be the time to consider starting your own business."
Credit
John from Wallet Blog presents What Do We Really Know About the Underground Market for Stolen Credit Card Info?, and says, "Could a recently launched project to monitor the sale of stolen credit card data on underground Internet forums in real time be the answer to controling credit card fraud? Who knows. But it sounds like a good start!"
John from Wallet Blog presents What Do We Really Know About the Underground Market for Stolen Credit Card Info?, and says, "Could a recently launched project to monitor the sale of stolen credit card data on underground Internet forums in real time be the answer to controling credit card fraud? Who knows. But it sounds like a good start!"
Miranda from Wallet Hub presents Foreclosure Process, and says, "A foreclosure can take anywhere from six months to two years. If you are unfortunate enough to find yourself in foreclosure proceedings, it is important to understand the process and the time frames for each step."
Glen from Credit Card Smarts presents Secured Credit Card vs. Prepaid Debit Card, and says, "A secured credit card vs. a prepaid debit card? Which one is best for you when you can't get a standard credit card? See the differences and how each card works."
Danielle from Saving Without A Budget presents Credit Cards: Important, but Deadly, and says, "Everyone needs credit, but learn how to build it wisely."
Debt
Bob from Dwindling Debt presents Letting Go of the Little Things, and says, "Follow a few disciplined steps to cut down on your debt."
Rohit from The Money mail presents Paying down debt faster using 0% APR balance transfer offers, and says, "With the cost of debt so high, it takes forever to pay down debt. Using tools like zero balance transfers, you can save on interest expenses and also repay debt sooner."
Green Panda from Green Panda Treehouse presents Paying Off Your Student Loans in Your First Year, and says, "How to deal with student loans in the first year."
Economy
Young from Young and Thrifty presents The Insanity of Trying to Predict Interest Rates, and says, "I find it hilarious that every time Young posts a net worth update or you stumble across any article that mentions interest rates you immediately get a bevy of "experts" that come out of the woodwork to explain why everyone else is a moron and that it is obvious to them exactly what interest rates will do."
PK from Don't Quit Your Day Job… presents The Moral Case Against Price Controls, and says, "We've often seen the opposite case – moral cases for intervention in the health care market – made to a receptive audience. Let's examine the flip side, a moral line of reasoning on why price controls are still a horrible idea in a health care context."
Michael from Financial Ramblings presents What is the "Fiscal Cliff" and Why Should I Care?, and says, "The media can't stop talking about the fiscal cliff. But what exactly is it? And why should you care? This article fills in the blanks and gives you all the details."
Finance
Darwin from Darwin's Money presents The #1 Thing You Need to Be Successful in Life (That Nobody Talks About), and says, "Success at anything – life, career, finances, you name it – depends on this one single thing. And it is rarely talked about."
Kerry from Frugal City Girl presents The Man vs Food guide to getting shit done, and says, "How to achieve difficult goals, with competitive eater Adam Richman of "Man vs Food" as guru."
Jay from Daily Fuel Economy Tip presents Financial Tips for the Fiscally Fit, and says, "Find out how little it takes to make you financially fit."
Frugality
Amy from Money Mishaps presents Save Money on Your Heating Bill This Winter, and says, "Useful tips on how to cut your heating bill this winter and still stay warm."
Money Walks from Money Walks presents Think You Can Eliminate Your Cable Bill?, and says, "Trying to save on bills? Money Walks shares some tips on eliminating one very prominent bill: your cable bill. "
Big Cajun Man from THE Canadian Personal Finance Site presents How Can You Justify Buying That?, and says, "Can you actually be too frugal? Do you save to live or live to save?"
David Carlson from Young Adult Money presents Our Cultural Split-Personality: Frugality and Consumerism, and says, "Our culture has a split-personality: we love to coupon and save money on deals, but we also love to consume. Can these two attitudes co-exist?"
Brian from The Outlier Model presents Why I use a car share, and says, "Owing your own car is expensive, but not having one can be a major inconvenience. But what if you could have access to a car whenever you want, but not have to worry about gas, insurance or maintenance?"
Emily from PT Money Personal Finance presents Are We Overspending on Child Safety?, and says, "Some things to consider when spending money on child safety to ensure you aren't spending a lot of extra money for diminishing returns."
Lance from Money Life and More presents A Great Way to Avoid Speeding Tickets, and says, "Whenever you drive there is always a chance you'll pass a police officer and there is a chance that officer will be looking for speeders. If you're not careful you might end up with a ticket.
I know some people speed on purpose because most police officers allow a fudge factor for a certain amount of miles per hour over the speed limit. If you're one of these people this tip can still, potentially, help you out."
Shawna from Money Misfit presents Frugal Travel: Tips on Using Priceline and Hotwire for Cheap Hotels.
Grayson Bell from Debt RoundUp presents 6 Ways to Cut Back on Living Expenses, and says, "Simple and easy ways to save money on your living expenses."
Investing
Ray from Squirrelers presents Is Silver a Good Investment Now?, and says, "When it comes to investing, there are more options than stocks and mutual funds. Precious metals sometimes enter the conversation, but it's usually gold that's discussed. What about silver?"
D4L from Dividend Growth Stocks presents 9 High-Yield Stocks With A Low Price To Book, and says, "A low P/B ratio could indicate a stock is undervalued or distressed. Since GAAP accounting is mostly based on historical cost, a viable growing company will normally be worth more than its book value. However, there are times when good companies will be punished along with the bad. It is our job as investors to separate the good companies from those that have fundamental problems…"
J.P. from Novel Investor presents What Is An ADR (American Depositary Receipt)?, and says, "There are many ways to invest in foreign companies. An ADR or American Depositary Receipt is an easy way to buy foreign stocks through your broker."
Katie from IRA Basics presents What is an Educational IRA, and says, "Learn about an Educational IRA."
Karl Marrion from WiseStockBuyer presents What Are Money Market Accounts and How Do They Work?, and says, "It's always better to do something with your money than leave it in a checking account. Money market accounts offer a return for virtually no risk."
Money Management
Pauline from Reach Financial Independence presents What does financial independence mean to you?, and says, "This is a post by John at Frugal Rules,about about financial freedom and what it means to him. Life and money goals are different for everyone but we all strive for more financial independence."
TTMK from Tie the Money Knot presents Changing Your Partner's Money Habits, and says, "Being on the same page with other people can be important, particularly so when it comes to your spouse and with money. This post shares two examples of couples who took different approaches to compromise."
Michael from So You Think You Can Save presents Perform A Line By Line Exam Of Every Bill And Statement, and says, "Paying your bills on time every month isn't enough. Make sure to review each bill regularly."
eemusings from NZ Muse presents A month of reduced income, and says, "Why we went down to one income last month, plus a PF confession…"
Mike from Experiglot presents How You Can Cope With Failure, and says, "Can you handle failure in business?"
Pauline from Budget and the Beach presents How to fund a nomadic lifestyle, and says, "In order to fund your travels or become a digital nomad, you can barter your way around the world or create passive income and invest the surplus. Here is how I do it."
Real Estate
pfblogger from Personal Cents presents Home Market Boom?, and says, "One of the strangest things to happen in October was an increase in home building. Why did this happen? Pfblogger explores the topic a bit in this article."
Glen Craig from Free From Broke presents How to Get FEMA Assistance, and says, "We've seen in the news, or first-hand even, the destructive effects of natural disasters. FEMA is the to assist for those affected. See what FEMA is and how to get FEMA assistance."
Savings
Eric from Narrow Bridge Finance (That's me!) presents How to Make Saving a Habit, and says, "The end of the year is approaching and with it an excellent time to analyze your financial house and see what changes you'd like to make for the upcoming year. For some this might mean examining their spending for ways to save money. With a few tips you can be on the road to saving money and improving your financial health."
FMF from Free Money Finance presents Combining Multiple Savings Offers to Maximize Savings, and says, "A week or so after I asked whether or not Menard's was a good place to get home improvement products. I was able to make a very sweet deal there that offered multiple levels of savings. Here's how the money piled up."
Daniel from Make Money Make Cents presents How to Save More Money without Making More Money, and says, "It is much easier than you think to save money."
Jack from Money Saving Ethics presents Money Saving Tips for Eating Healthy, and says, "Delicious and healthy can be quite affordable if you know what your doing."
Taxes
Nicole from Nicole and Maggie: Grumpy Rumblings presents Sometimes the IRS is awesome, and says, "Nicole and Maggie discuss how to get an employer identification number (EIN) and a new website from the IRS that makes it super simple to get one."
Image by Kevin Marks / flickr
Get the FREE Personal Profitability Playbook
Earn more, spend thoughtfully, grow your wealth, and live a better life through mindful personal finance.